Skin Superfood: Shea Butter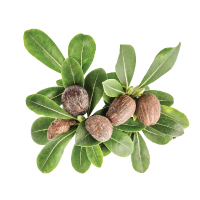 ESSENTIAL HYDRATION
Shea butter is an off-white, fatty substance obtained from the nuts of the shea tree from West Africa. It is a key ingredient for natural skincare, providing deep moisturization and immediate smoothness. Raw shea butter helps tissue cell regeneration and softening of the skin, which reduces wrinkles, and is proven to boost collagen production, which is essential for skin strength.
SKIN NUTRITION BENEFITS
Therapeutic skin softener and moisturizer, naturally rich in skin-replenishing fatty acids, stearic and oleic acids, and benefit-rich vitamin E and vitamin A.
DIETARY BENEFITS
Shea butter is found in a variety of confections and chocolate as an alternative for cocoa butter. The Journal of Oleo Science reported that through its studies, shea nuts and shea butter were found to reduce inflammation. The studies also showed that shea butter contains a significant source of anti-tumor promoting compounds.