Skin Superfood: Rosehip Oil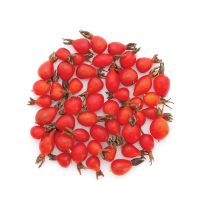 HEALING PROPERTIES
Rosehip oil is harvested from the seeds of rose bushes predominately grown in Chile. Its unique blend of vitamins, antioxidants and essential fatty acids gives it amazing healing properties.
SKIN NUTRITION BENEFITS
Super light and non-greasy, Rose Hip oil's anti-aging benefit comes from its high antioxidant content and the oil's ability to penetrate into deeper layers of the skin. The vitamin C and vitamin A, in particular, stimulate collagen production. Because vitamin A has small molecules, it allows deeper penetration into the skin and improves the skin's moisture levels — thus reducing wrinkles and fine lines.
DIETARY BENEFITS
Rose hips are used for herbal teas, jam, jelly, syrup, rose hip soup, beverages, pies, bread, wine, and marmalade, adding extra natural flavors.