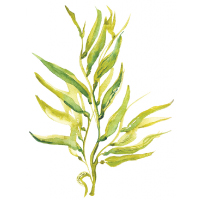 MINERAL RICH
Seaweeds offer the broadest range of minerals of any food, containing virtually all the minerals found in the ocean—the same minerals that are found in human blood.
SKIN NUTRITION BENEFITS
Seaweed is an excellent source of natural iodine and vitamin K, a great source of folate and magnesium and a good source of iron, calcium, riboflavin and pantothenic acid. In addition, seaweeds contain beta carotene, niacin, potassium, phosphorous, selenium, vitamins A and C and 18 different amino acids. Seaweed is known to hydrate, soften and detoxify your skin.
DIETARY BENEFITS
The folic acid in seaweed may reduce the risk of colon cancer, prevent birth defects and help protect blood vessel walls. Its magnesium content can reduce blood pressure and help to prevent asthma, heart and migraines. Magnesium may also help restore normal sleep patterns to menopausal women. Of course seaweed is used in sushi, but you can also opt for seaweed salads, sprinkle it on top of salads, add to soups, or use as a substitute for salt as a flavor enhancer. To avoid concerns with heavy metals, make sure to buy organic seaweed.