Skin Superfood: Willow Bark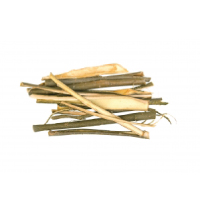 ANTI-INFLAMMATORY
The use of willow bark dates to the time of Hippocrates (400 BC) when people were advised to chew on the bark to reduce fever and inflammation. Willow bark has been used throughout the centuries in China and Europe, and continues to be used today for the treatment of pain, headache and inflammatory conditions.
SKIN NUTRITION BENEFITS
Willow bark has natural soothing and tonic properties. The bark of the willow tree is a potent source of salicylic acid, a natural exfoliant used in many acne treatments because of its ability to help skin shed dead cells and clear pores. It can also stimulate new cell formation to give skin a clearer, healthier appearance. The same exfoliating action that reduces clogged pores also helps smooth the look of fine line and wrinkles. The result is smoother, softer skin.
DIETARY BENEFITS
Often dubbed "nature's aspirin", willow bark has long been used as an effective treatment for recurrent headaches or lower-back pains. Making White Willow bark tea is one way to benefit from its therapeutic properties. But you should only add willow bark to your regular health regimen after speaking with your physician.