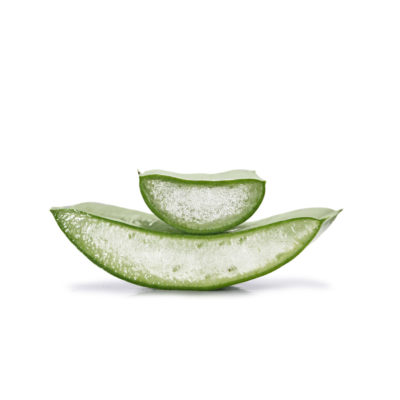 SOOTHING MOISTURE
Dating back to ancient Egypt, highly water-dense aloe is a widely and proven known remedy for skin and overall health.
SKIN NUTRITION BENEFITS
Aloe juice contains antioxidants, enzymes, Vitamins A and C, and is highly anti-inflammatory. It can help treat burns, acne and dry skin, soothing discomfort and redness. So simple yet so smart, Aloe vera gel absorbs easily, making it ideal for oily skin, as well as dry skin due to its hydrating power (so much so that it can help alleviate dry, itchy skin associated with eczema).
DIETARY BENEFITS
Aloe vera juice is a rich source of nutrients: antioxidants (vitamins A, C, E and beta-carotene) which help fight free radicals, as well as folic acid, calcium and magnesium. This lowers oxidative stress on your body and reduces the risk of chronic conditions such as diabetes, heart disease, or even cancer. And the aloe plant is very water-dense, so it's an ideal way stay hydrated (getting a hefty punch of nutrients too) while helping your body detox by providing a way for you to flush out impurities.