WELCOME TO BIOMILK!
Healthy, Natural, Probiotic Skincare
Where smart, clinically-proven Probiotics (like the ones in your morning yogurt or kombucha) meet natural potent Superfoods to feed your skin the healthy nutrition it craves!
Our passion: health!
Body and mind. And good health starts with what we eat.
BIOMILK products are ALWAYS: Natural & Safe, Gentle, and Cruelty-free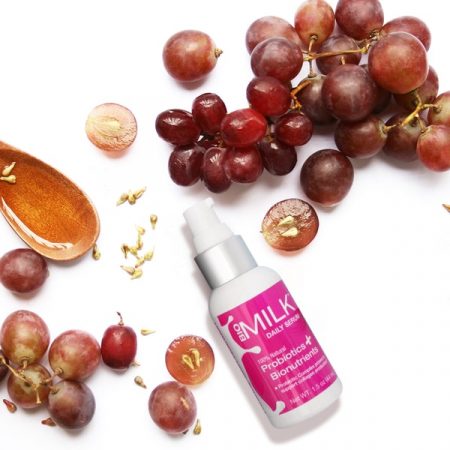 OUR FOUNDER
I'm originally from France – the daughter of two doctors.
When my sons were little, I started looking for natural ways to strengthen their immune systems. Making my own yogurt and incorporating probiotic-rich dairy and drinks (like kefir) into our meals made a huge difference in our family's health!
I quickly became a fervent advocate of the benefits of probiotics for our overall health, inside and out. Leveraging my 12 years in health and beauty brand management in the US and fast forward years of development, and BIOMILK was born!
Our starting point: how does your skin's natural ecosystem work and what does it need to stay healthy?
From there, we craft
clean, natural products that work with your own skin, unleashing the power of probiotics and prebiotics to achieve lasting and visible skin health
. It took 3 years of formulation work to create the natural, high efficacy premium formula, free from toxic ingredients (clean), but at a price that remains accessible for all.
BIOMILK Founder, Valerie Casagrande
SKINCARE FOR A CAUSE
Just like the health of our skin depends on the health and balance of its living ecosystem (or "biome"), the same goes for our planet. And within our planet, trees are the key protectors of nature's ecosystems.
Trees help clean the air we breathe, filter the water we drink, and provide habitat to over 80% of the world's terrestrial biodiversity. They absorb harmful carbon from the atmosphere, and are key ingredients in 25% of all medicines. Simply said, our planet needs trees!
That's we've partnered with One Tree Planted, a non-profit organization focused on global reforestation.
For every product you buy, we plant a tree.
BIOMILK works with your own skin to keep its delicate ecosystem healthy and balanced. The forests we are planting will support nature's ecosystem.  One for you, one for the planet.
To learn more, visit One Tree Planted
"I truly look forward to washing my face now –

which is something I have definitely never been able to say before."

"I use BIOMILK Serum every day before my Day Cream and before my Night Cream.

After a week my husband asked me if I was doing anything new because my skin looked so good!"

"I LOVE the Night Cream!

It feels very nourishing, and the scent is so relaxing at the end of the day."

"I have dry skin.

BIOMILK Body Lotion is my secret for soft smooth skin all day with no greasy residue."

"Wow my skin feels so clean and soft after using BIOMILK Detox Scrub!

And it is so gentle I can use it every day."

"My simple morning routine: a good breakfast for me and BIOMILK Day Cream for my skin.

Now I'm ready to face the day!"