We're welcoming new BIOMILK Healthy Nutrition cooking expert, Red Kitchenette founder, chef Danielle Krupa… just in time for strawberry season!
By Danielle Krupa, BIOMILK Healthy Nutrition Cooking Expert
What better way to enjoy one of summer's sweetest fruits than in a glass of cold, refreshing, healthy strawberry milk? This recipe is naturally sweetened, free of artificial flavors and colors, and as delicious as it is pretty. Even better? It's loaded with skin-loving antioxidants. Vitamin C rich strawberries and coconuts will keep your skin bright, supple, and full of elasticity. A win-win for all.
Homemade (Vegan) Strawberry Milk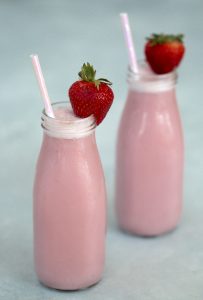 Ingredients
Strawberry Syrup:
Makes approx. ¾ cup
1 pint fresh strawberries, hulled and halved
¼ cup water
2 tablespoons pure maple syrup
 *Tip: Double the syrup recipe and save to drizzle over pancakes, oatmeal, ice cream or yogurt.
Strawberry "Milk":
3 tablespoons strawberry syrup
1 cup unsweetened coconut milk (or your favorite dairy or non-dairy milk)
Instructions
Strawberry Syrup:
In a small saucepan, bring the strawberries, water, and maple syrup to a boil. Reduce heat to medium-low and simmer for 10 minutes, until strawberries have softened, stirring occasionally. Remove from heat and let cool slightly.
Pour contents of saucepan into a food processor. Process for about 30 seconds until strawberries are pureed.
Pour strawberry mixture into a fine mesh strainer over a bowl (this step will remove all seeds from the strawberry syrup).
Let syrup cool completely before making milk. You can store syrup in an airtight container in the fridge for up to 1 week.
Strawberry Milk:
Stir together 1 cup cold coconut milk and 3 tablespoons of strawberry syrup, mix well, and serve as is or over ice!
Share with us on Instagram and Facebook how you're supporting your skin through nourishing whole foods!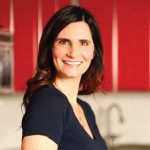 Keep up with Danielle on her website, on Instagram and stay tuned to the BIOMILK blog for more of her delicious recipes to feed your body and skin right.