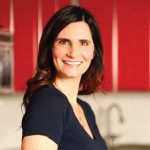 How would you describe yourself? 
I am a mom of 2 young girls (4 & 6), a wife, and a New Yorker currently living in Boston. I am also a health-supportive chef and nutritional consultant who focuses on writing and recipe development. I provide food how to's and tips for parents, as well as fun and nutritious recipes that appeal to a range of ages. From infants starting on solid foods, to toddlers, kids, and adults, I am passionate about creating tasty, healthy meals the entire family can share.
When and how did you decide to become a chef? 
I decided to become a chef almost 10 years ago. I was working in research at Cornell Medical College in the department of Epidemiology and Integrative Medicine. A lot of the research we were conducting was looking at the connection between diet and health – which had been my focus for years, and all throughout graduate school. But it was during that time that I became more and more drawn to culinary school. I was spending all this time looking at the physical and mental aspects of food when I really wanted to get into the kitchen and dig in to the cooking side of things.
How would you describe your philosophy as a chef who focuses on feeding a family?
I believe in feeding my family the same way I feed myself – all natural, wholesome ingredients prepared without a lot of fuss. I truly believe that most foods, if fresh and seasonal, taste great prepared simply. For me, it's about quality and technique. A simple piece of sustainable local fish if cooked well, with a little olive oil, salt and pepper, doesn't need to be masked in butter or prepared elaborately. The same goes for vegetables, meats, and whole grains. I carry that philosophy into everything I make for my family. Nothing is too elaborate and we eat real foods, prepared well (and with love!)
How do you involve your kids in the kitchen? How do you create healthy habits early on? 
From the time both of my girls were old enough to eat solid foods/baby purees they've been in the kitchen with me. Whether they were watching or chatting about food with me as babies and toddlers, to actually getting into the kitchen with me baking, chopping with their kid knives, even helping out at the grocery store, they're always involved in the process.
I believe the number one aspect to raising a child who eats well is to eat well yourself. We lead by example. My girls have always been fed the same food I eat. Maybe it was pureed when they were a baby or maybe it didn't have as much spice, but if I was eating butternut squash, so were they. I never treated them like they didn't have taste buds or a palate – and that has translated to two kids today who enjoy and appreciate healthy foods.
Too often people confuse healthy eating and dieting. What does healthy eating look like to you?  
Healthy eating is a lifestyle for me. It's not something I do to lose weight or as a temporary fix. It's something I do to feel good, strong, energized and nourished.  Healthy eating is also about balance. We eat really well, but that doesn't mean we don't enjoy "unhealthy" foods. I love burgers and pizza and mac n' cheese, but it's all about moderation. If I ate those foods all the time I think my body would feel terrible, and sluggish. I eat because I love food, I love the taste, the exploration, the social aspect of it, but I also eat to fuel my body. That's healthy eating to me.
What else should our readers know about you and your work?
In addition to my work as a chef, I am an avid reader, fitness enthusiast, live music lover, and founder of the 501(c)3 non-profit, Moms For Moms, which provides single mothers in need with everyday childcare essentials.
Keep up with Danielle on her website, on Instagram, and stay tuned to this blog for her favorite tips and recipes!