We're ringing in the holidays with BIOMILK Healthy Nutrition cooking expert, Red Kitchenette founder, chef Danielle Krupa
By Danielle Krupa, BIOMILK Healthy Nutrition Cooking Expert
There's just something about the holidays that makes everything peppermint taste that much better. From candy canes to peppermint hot chocolate, December is the perfect time to indulge in this minty treat. And since peppermint eases indigestion, relieves tension, and improves energy, what better antidote to all the upcoming festivities!? Here I've created a homemade, much healthier version of the classic Peppermint Patty. It's full of flavor, easy to make, and will make any holiday spread fun and cheery.
Even better, these little treats are made with: unsweetened coconut which help prevent dry skin (hello, winter!), raw cashews which are high in selenium and zinc, helping to hydrate skin, reduce inflammation, and fight acne. And dark chocolate, which if it wasn't delicious enough already, it's believed that the antioxidants in it can help protect your skin from free radical damage, i.e. wrinkles…yes, please!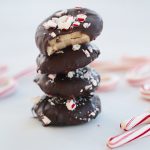 Homemade Peppermint Patties
Makes approx. 20 patties
1 cup unsweetened shredded coconut
1/3 cup raw cashews
2 tab pure maple syrup
1 tab coconut oil
1 tab, plus 1 tsp peppermint extract*
Pinch of salt
1 cup dark chocolate chips**
Crushed candy canes for topping (optional)
In a food processor, combine coconut, cashews, maple syrup, coconut oil, peppermint and salt.
Blend for about 1 min, until smooth and combined.
Roll 1 tablespoon mixture into a ball and flatten into a "patty" shape, place on parchment paper and repeat. Freeze patties for 20 minutes.
Remove patties from freezer.
In a small bowl, melt ¾ cup of the dark chocolate chips in the microwave for 30 seconds. Stir and melt for an additional 30 seconds. Remove from microwave and stir in last ¼ cup chocolate chips until melted.
Dip each patty into melted chocolate, sprinkle with a few crushed candy canes (if using) and place back on parchment paper. Once all are dipped, place in fridge to cool and harden for 15-20 minutes.
* If you would like to use 100% pure peppermint essential oil, reduce amount to 1 teaspoon.
** I use 
Lily's
 dark chocolate vegan and gluten-free baking chips, sweetened only with Stevia.
Share with us on Instagram and Facebook how you're supporting your skin through nourishing whole foods!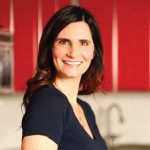 Keep up with Danielle on her website, on Instagram and stay tuned to the BIOMILK blog for more of her delicious recipes to feed your body and skin right.