It's finally spring and we're celebrating with BIOMILK Healthy Nutrition cooking expert, Red Kitchenette founder, chef Danielle Krupa
By Danielle Krupa, BIOMILK Healthy Nutrition Cooking Expert
It is officially spring and with that comes an abundance of fresh veggies and vibrant flavors. It's the time of year where we embrace brighter & lighter fare… Enter this Edamame Hummus. It is bursting with flavor; it is smooth, creamy, and fresh tasting. It's delicious as a dip or even as a spread on sandwiches and wraps. Scoop it up with whole wheat pita or fresh cut veggies. Spread it on toast with halved grape tomatoes. The options are endless. But however you choose to eat it, it is sure to be the star of any springtime dish.
Better yet, Edamame (soybeans) also happen to be a protein-packed, iron-rich superfood. They help to enhance moisture in the skin and can provide a softening and smoothing effect, giving you a radiant, springtime glow. And who doesn't want that!?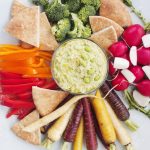 Edamame Hummus
1 10oz. bag frozen shelled Edamame (we recommend using organic & non-gmo)
¼ cup tahini
Juice of 1 lemon (about 2-3 tab), plus 1 tsp zest
2 tab extra-virgin olive oil, plus more for drizzling
1 peeled garlic clove
1 tsp salt
½ tsp freshly ground black pepper
Cook edamame by either microwaving or boiling for 2-3 minutes (if boiling, be sure to drain).
Set aside a few edamame for garnish, place the rest along with tahini, olive oil, garlic, salt & pepper in a food processor.
Puree until desired consistency, you want it smooth and creamy. If it seems too thick, you can add 1 tab of water to thin it out.
Remove from processor, place in a bowl, cover and chill.
Before serving, top with reserved edamame, lemon zest and a drizzle of olive oil.
Serve with fresh cut veggies or cut up whole-wheat pita triangles.
Share with us on Instagram and Facebook how you're supporting your skin through nourishing whole foods!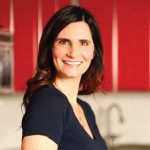 Keep up with Danielle on her website, on Instagram and stay tuned to the BIOMILK blog for more of her delicious recipes to feed your body and skin right.