We're cooling off this summer with BIOMILK Healthy Nutrition cooking expert, Red Kitchenette founder, chef Danielle Krupa
By Danielle Krupa, BIOMILK Healthy Nutrition Cooking Expert
It's hot outside and who feels like cooking? Not us.
Summer is a time for cool, hydrating foods and a time when turning on the oven for a nutrient-dense breakfast is the last thing on your mind. Thankfully, this strawberry-beet smoothie bowl will have you energized and feeling great with just the flick of a blender. And the combination of beets and fresh summer fruit is light + refreshing, bright and absolutely beautiful. Even better? It's naturally sweetened and loaded with skin-loving antioxidants.
If you haven't given the smoothie-bowl trend a go, all you need to know is it's a slightly thicker version of your favorite smoothie that's loaded with a few toppings to give it texture and crunch. Enjoy!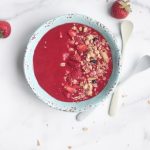 Strawberry Beet Smoothie Bowl

Makes 1 large or 2 small servings
1 cup hulled and sliced strawberries
1 small cooked beet, peeled and roughly chopped
½ cup cubed mango
1 cup coconut water
1 tablespoon lemon juice
½ teaspoon fresh grated ginger (ginger powder works as well)
½ teaspoon ground turmeric
Toppings: granola, chopped fruit, nuts, seeds, shredded coconut, hemp hearts, cacao nibs, dried fruit
Add all ingredients to a high-powered blender and blend until smooth. Pour into a bowl and top with your favorite toppings.
Pictured in the photo are granola, sliced strawberries, toasted coconut and dried blueberries.
Share with us on Instagram and Facebook how you're supporting your skin through nourishing whole foods!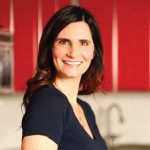 Keep up with Danielle on her website, on Instagram and stay tuned to the BIOMILK blog for more of her delicious recipes to feed your body and skin right.