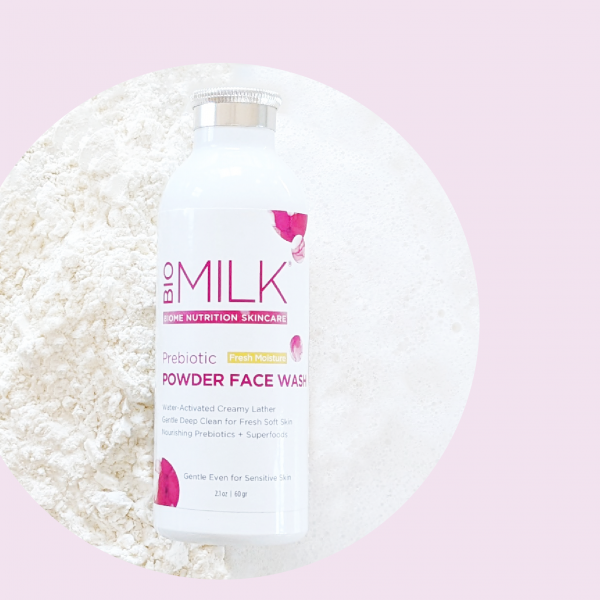 February 16, 2022 —
Happy Global Innovation Day!
Something we have always taken very seriously here at BIOMILK Skincare, starting from the very reason why we founded BIOMILK Microbiome Skincare. Co-Founder, Valerie Casagrande, wasn't about to leave a position she had worked so hard to achieve in Brand Management in a company she loved to launch just another natural skincare brand. But when you start digging around Microbiome care, you understand how the very foundation of our health and wellness is tied to the balance of that same microbiome, both internally and externally. We knew we were uncovering something truly unique and tangibly efficacious, and that's what innovation is all about: solving real problems with real smart solutions. 
And you truly have to be smart when you are a small independent brand (indie beauty and proud of it!), fully self-funded, in a world of multi-national giants.
That is why we are so proud to introduce our BIOMILK Prebiotic Powder Face Wash!
This wash is truly a game-changer but don't take our word for it…
Washing your face is the #1 beauty act women (and men) do every day. Sometimes in the morning, most often at night, or even both. But this is a critical first step for healthy skin. Yet, in a world where shelves are packed with more beauty solutions that we could ever dream of, over 60% of women say their skin feels uncomfortably dry and tight after cleansing. "Squeaky clean" is a big no-no! What it means actually is that your skin was stripped of its natural oils, lipids and moisture that naturally protect its outer layer. Your skin should feel fresh and soft post-cleansing, not depleted.
This 100% clean, water-activated Face Wash is uniquely formulated to gently and effectively lift away dirt, oil, pollution, even make-up, all in the respect of your skin's natural ecosystem. No more stripping the skin of its vital oils and proteins! Just add a few drops of water to the powder to instantly create a rich, velvety foam. Our Oat Prebiotics Complex + moisturizing Coconut soothe and nourish the skin while protecting the skin barrier's bacterial balance for visibly fresh, healthy-looking skin.
This is what innovation is all about!
Solving a real everyday problem with a simple, yet efficacious solution
Changing ingrained habits (powder vs. traditional soap bars, gels and creams or even micellar-water) for better results
Skin and planet friendly: 100% plant-based clean formula in reusable, recyclable AND refillable packaging
So this year to celebrate World's Innovation Day, discover a support a small but mighty women's lead Indie and do good for your skin at the same time. We are BIOMILK and proud of it!
Check out our socials (Instagram and Facebook), plus stay tuned to this blog to discover more about our commitment to skin biome nutrition and more!