April 2022
And… we're live in the Beauty aisle at Whole Foods Market Florida!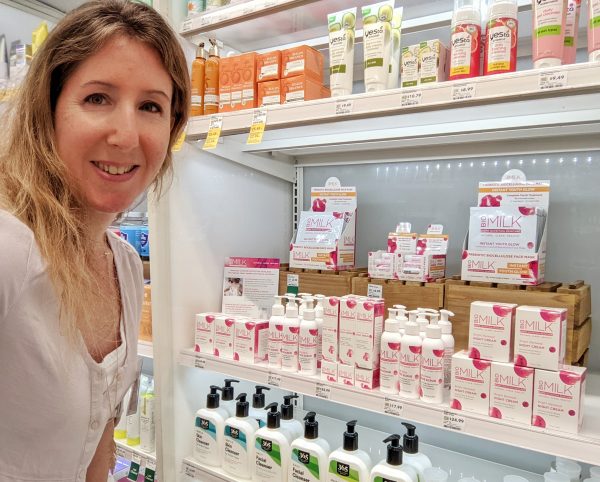 I can still remember our excitement when Katie and I met that afternoon around a coffee in Manhattan. In front of us was our first line-up of facial creams, serum, and body lotion. That original bold fuchsia packaging with its large milk splash was for sure different, but also unique and so attractive when imagined next to the traditionally white bottles and cartons in skincare.
Since then the BIOMILK design has evolved (thank you Brand Now!), but our core healthy formulations and clinically-proven Probiotic actives are still the same! 3 years of intense formulation work went into our products. Katie and I come from over 12 years in the beauty and health industry, doing exactly what we are doing now …. but without any big corporation behind us this time. I stopped counting how many hundreds of little jars we tested, sampled, smelled, lathered on our face and body. We were not ready to compromise: we wanted top notch healthy ingredients, technologies that visibly work, but also – and this is where my French flair is coming through – for our consumers to truly derive pleasure from the experience of using BIOMILK!
BIOMILK Microbiome Skincare launched in early 2018. Fast forward 2 years later, the world was trying to find new ways to operate during a global pandemic, and so we decided to register to an online retail summit, since a retailer at the very top of our dream list was participating: Whole Foods Market! Was the week before our call stressful? Yes! Did we overprepare? Also yes!!
Ultimately the buyer quickly put us at ease. She had been watching us and was very interested. 4 months later, we were celebrating our acceptance for the 2022 reset! The preparation for our Whole Foods Market BIOMILK launch was rigorous but the team was so supportive towards us as women entrepreneurs. Since March 2022, BIOMILK Microbiome Skincare is now available in all 32 Whole Foods stores across Florida!
Katie and I are both enthusiastic Whole Foods shoppers. When I was expecting my first son, this is where I headed to do a Spring cleaning of my entire skincare routine in search of natural, safe new creams and balms.
First, Whole Foods is highly trusted for their selection of high-quality, environmentally friendly, clean beauty solutions, so we'll be in great company. Next, their customers' values align very closely with ours, caring for their health, inside and out, but also the health of the planet. Our customers are similarly so savvy about their beauty routine, constantly on the lookout for gentle yet proven solutions to proactively support their health and wellness. An active lifestyle, nutrition, mental balance… It's about finding what works best for us and proactively making these right choices and swaps.
We feel very thankful that so many friends and customers are rooting for our success! To the question, "how can I help?", I would say: Put us on your shopping list next time you are heading to any Whole Foods store in Florida. You might even discover some new BIOMILK products!
Snap a pic and tag us on Instagram #biomilkskincare and #wholefoodsmarket. This never fails to brighten our day!
And last but not least, spread the love ❤ by talking to your friends and family. Our best ambassadors will always be you.
We have big goals, starting with growing BIOMILK to more Whole Foods Market stores across the US and introducing new exciting clean beauty innovations with these silky textures and light awesome fragrances everyone loves.
Hope to see you soon!
Valerie & Katie
Let us know what you think on our socials (Instagram and Facebook) to discover more about our commitment to the environment, biome nutrition and more!